Interviewed by Paige Forster (Arlington Soccer Club Director Of Coaching)
"I had great coaches growing up, they supported me and they were always positive"
Playing in the best league in the world…
Natasha Dowie, born 30th June 1988, is an English professional football player. She has played for club and country throughout her career at the top flight, netting 5 in 14 Senior appearances for England.  She has won the F.A Women's Super League twice in 2013 & 2014 with Liverpool Ladies. She is now the front force for local team Boston Breakers where she hopes for the same success. Dowies professional career started at Watford Ladies (London) in 2004 and went on to play for 6 other English teams. In 2016 she crossed the pond where she signed for Boston Breakers and hasn't looked back since.
Quick, strong and lethal in the air, it is no mystery why Dowie is a defenders nightmare. Dowie finished the 2017 season as the top goal-scorer for the Breakers with 7 goals. She also captained the side on two occasions.
In an exclusive interview with Paige Forster, the on form striker discussed who her biggest inspiration is, how important coach motivation is and her secrets to performing at her best.
At what age did you start playing football competitively?
I always play competitively 😉 I was 15 when I played open age for Watford Ladies FC.
Who was your biggest inspiration growing up and why?
My dad was. He played at a good level and was a great coach. He has always been my biggest supporter and has coached me from the start and traveled all over the world to watch me play.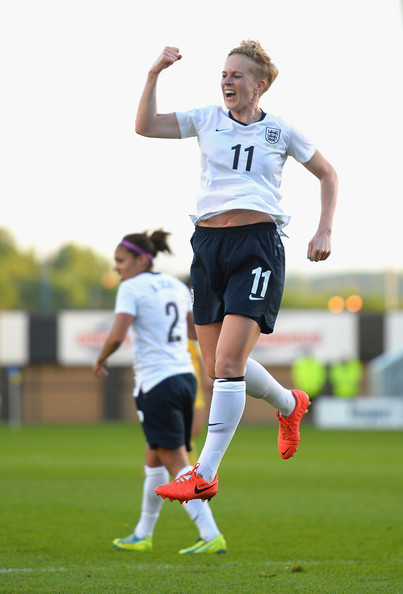 Growing up do you think watching soccer helped you become a better player?
Very much so. When you have a favorite team and player you study the way they play collectively and individually and try to look at what you can bring to your own game to become better.
How important do you think the coach is in motivating you to play as well as you can?
Extremely. I had great coaches growing up, who supported me and they were always positive and enthusiastic about the game. They just let me play without a care in the world. The older I got my dad made sure I was always competitive which was never a problem. I hated losing at anything.
If you were to give any advice to any young soccer players what would it be?
Enjoy playing. Work hard. Practise practise practise. Always believe in yourself no matter what. Ask lots of questions to help your game. Watch the game as much as possible live and on TV. Then the older you get it becomes your life! Everything you do should be to help you be the best player you can be. Eating hydration recovery/sleep.
I know you have had some coaching experience in between your playing career with youth players, so as a coach what advice would you give to our volunteers who are working with our youth players?
Be enthusiastic. Positive body language and talk. Encourage them if they make mistakes – it will help them to get better. No one is perfect. Team spirit. Make sure everyone is a good teammate.
How important do you think rest and recovery is and what do you do to make sure your body recovers well enough to always perform to your best?
It's key.
Straight after a game I ice bath. Get good food in me and fluid straight away.
During the week I try to get a massage every day if I can or at least every other day to flush my legs out.
Foam roll and stretch daily. Get as much sleep as possible. Nap during the day.
Other activities I enjoy doing are Yoga and swimming.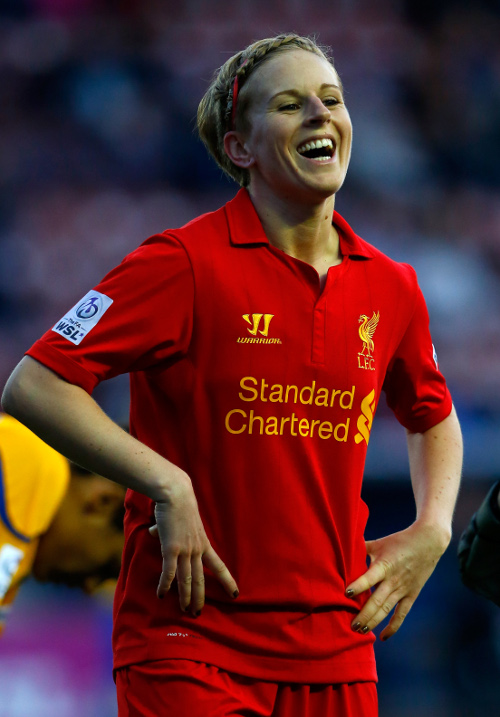 What do you eat the day before a match and the morning of a match?
Day before
Breakfast – smashed avocado poached eggs on toast with grilled tomatoes and halloumi cheese with fresh orange juice.
Lunch – fruit ( bananas strawberries blueberries raspberries with yogurt-  nuts sprinkled on top.
Dinner- chicken pasta with mushrooms and peppers.
Drink water throughout the day.
2/3 cups of tea and a chai latte 😊
Morning of match- porridge with blueberries on top.
At your current team does the manager still keep the training sessions fun? If so how? And do you think this is a vital part of learning?
Not as much as I would like. I try to not let it feel like a job but it's hard when it is and your managers job is on the line! It's a results business.
Normally we play rondos before the session starts which is when you can be a bit light-hearted.
One last question before you go, what made you decide to come and play for Boston Breakers?
I wasn't happy at Doncaster Belles and was looking to leave but wasn't allowed to sign for anyone in the UK. Matt Beard approached my agent. I had always wanted to play in America. It's the best league in the world so it was a win win for me.