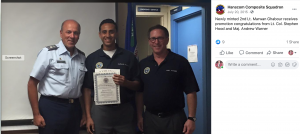 The Arlington Soccer Club is saddened by the sudden passing of one of our former players. ASC wishes to convey our deepest sympathies to the family of former ASC player and referee, Marwan Ghabour, who tragically perished on Thursday, November 12th, while serving his country as Chief Warrant Officer 2 in the US Army. Lt. Ghabour was part of a multinational peacekeeping force in Egypt when his military helicopter tragically crashed killing 7 members onboard.
We remember Marwan fondly. He loved playing soccer, he was especially passionate about playing goalkeeper, and he was loved by all his teammates. Marwan was also a dedicated and excellent youth referee which he continued to participate in ASC as a young adult until he moved on to serve his country for the US Army.
"Marwan was one of those players we talk about at tryouts who never made a D1 or D2 team at a younger age but always worked hard on his skills and eventually made the Arlington High School varsity team," said ASC BAYS Boys co-director Steve Moniak, who coached Marwan for several seasons on ASC spring high school teams." In Marwan's senior year he stepped in as starting keeper in the 2009 MIAA post-season tournament and played a starring role to help the team make the Eastern Mass semifinals."
In 2010 Marwan was a recipient of ASC's prestigious Sam Oliver Memorial Scholarship, which the Club awards each spring to graduating seniors with reputations for good sportsmanship and who have continued to play, coach, or referee for ASC during their high school years. Consistent with the scholarship's mission of civic duty, Marwan exemplified all of the qualities of a player you would want on your team, on and off the field.
On behalf of the ASC community, we are proud to honor Lt. Ghabour for the positive impact he had on our club, our community, and for our country. Marwan's memory will live on in our hearts for his service, bravery, and sacrifice.
(Marwan is pictured 3rd from the top left in the ASC team photo.)