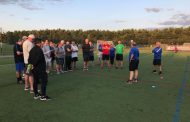 2021 US Soccer D License – Blended Format
Registration is open for the Mass Youth Soccer Blended D License beginning on July 26th.
Virtual Classroom sessions will take place from July – November with 2 candidates attending an in-person field event in Lancaster on November 13, 2021.
Click here for further information on the D License
2021 US Soccer C License: July – October
Mass Youth Soccer is excited to host a US Soccer C License in collaboration with New Hampshire Soccer Association.
Virtual Classroom sessions for the C License begin in July 2021 with candidates attending 1 in-person meeting hosted at Devens/Lancaster, MA from October 8-11.
To be eligible for the C License, candidates must have held a National D License for 12 months.
Click here for further information on the C License