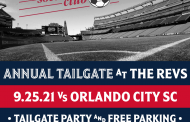 Lots of fun and great soccer at the tailgate!
Saturday night's tailgate at the New England Revolution was a huge success!
Over 710 players and families attended and enjoyed a special evening.
Thank you to everyone that contributed and pitched in to make this annual event happen!
We're looking forward to seeing you there next year!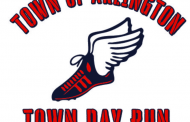 Come join us on Saturday, September 18th for our annual 5k run that starts and ends at the Ed Burns Arena. The first 200 entries will receive a race tee-shirt and we are about halfway there so don't miss out on getting yours!
This year the race will begin at 10 am and will also include fun family activities such as:
Food from local restaurants
Post Race Beer Tent compliments of Alewerks Brewery
Bouncy Houses and other kids activities
Disc Jockey to keep everyone dancing
Register now at this race link: https://raceroster.com/50754
Automated Timing Service by the Second Wind Timing Team!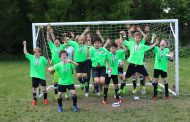 We are excited to once again announce several player development clinics with our Challenger coaches this Fall. This season's clinics include 4v4, Skills & Drills and Goalkeeper sessions. Details of each session are as follows:
4v4
The 4v4's recreate, as much as possible, the playing
environments in which the world's greatest players
first learned and then developed the skill required
for top-level performance:
– Plenty of individual possession, ball control and touches
– Trying new skills without fear, ridicule, or recrimination
– Taking players on and challenging defenders
– A vibrant, creative and fun atmosphere
Players will play in groups of 4 and rotate through different field layouts, all designed to develop different areas of their game.
Technical Skills
These technical skills sessions are designed to improve your foot skills and technical ability in any situation on the field. The session will be broken down into 4 sections;
– SAQ (speed, agility, quickness)
-BALL MASTERY
-CORE SESSION
-SSG (Small Sided Games)
During our technical skills sessions are our aim is to get at least 1000 positive touches on the ball.
Goal Keeping
At these Goalkeeper sessions, players will learn the technical skills needed to be successful and tactically aware in goal. The sessions will be high intensity in a fun and challenging environment. We will practice in game-like situations and the players will have a lot of 1-1 guidance. . These sessions are designed for all abilities interested in goalkeeping, whether goalkeeping is their favored position or they are looking to learn it as a new skill. We aim to grow players' confidence in between the sticks as well as their competency.
Registration for these clinics is through our development registration system.You must login with your existing family account credentials from there you will be prompted to select the various options relevant to your player(s). Only players who are registered for the Fall 2021 season with ASC are eligible for the development clinics for insurance reasons. Please note in case of rainouts (follow field conditions here), no make-up dates will occur.
Schedule/Grades/Location/Time/Price
6 Weeks:
Week 1 = September 21 through to Week 6 = October 26th
(Please note this date is the first Tuesday and last Tuesday, so the Wednesday and Thursday dates will be 22nd – 27th & 23rd-28th)
Open to grades: 4-8
Time: 7:30-8:30
Location: Thorndike Field (lights)
Price : $35 for 6 weeks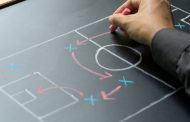 Coaches Meeting
On Wednesday September 8th, ASC hosted the Fall 2021 coaches meeting virtually from 7:30pm – 9:00pm. Here is the
slide deck from that meeting.
Equipment Night
Thursday 9th September
5:30pm-7:30pm
This will be conducted in the parking lot of the Ed Burns Ice Skating Rink (422 Summer Street). Please make sure one coach from every team gets to this in order to collect the equipment your team will need for the season.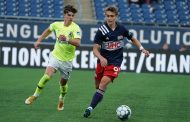 The New England Revolution II signed 16-year old Noel Buck to a USL League One contract on Tuesday, June 22.  The Arlington native and Arlington Soccer Club alumnus has appeared in eight matches (four starts) for the Revolution II this season in his professional debut, scoring a team-high three goals.  Buck has played for the Revolution Academy program since 2017.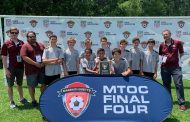 The ASC B6 Lightning, representing the Arlington Soccer Club (ASC) and Boston Area Youth Soccer League (BAYS), topped off a spectacular 8-0 post-season run by going undefeated in group play over two days and then wining their semi-final and finals on Sunday in convincing fashion to be crowned 2021 Massachusetts Tournament of Champions (MTOC) for Boys Grade 6 Division 2.
The Lightning, who finished their regular season 9-1-0 in BAYS Grade 6 D2B, advanced to MTOC after winning the BAYS Grade 6 D2 Championship with a 5-0 over Natick in the quarterfinals, and then defeating D2A runner-up Holliston 3-2 (?) in the semi-finals and D2A Champion Southboro 5-0 in the BAYS Final.
In group play at MTOC the Lightning scored 12 goals while keeping three clean sheets in a sweep over town-league champions Southwick, Marshfield and Acushnet, advanced the to the semi-finals where they notched a 6-2 victory over Andover, and then triumphed 4-0 over Worcester in the MTOC Finals.
The Lightning did the ASC and BAYS proud throughout with both their sportsmanship as well their entertaining and often beautiful quality of play.
Congratulations to the ASC B6 Lightning. Well-done boys!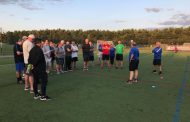 2021 US Soccer D License – Blended Format
Registration is open for the Mass Youth Soccer Blended D License beginning on July 26th.
Virtual Classroom sessions will take place from July – November with 2 candidates attending an in-person field event in Lancaster on November 13, 2021.
Click here for further information on the D License
2021 US Soccer C License: July – October
Mass Youth Soccer is excited to host a US Soccer C License in collaboration with New Hampshire Soccer Association.
Virtual Classroom sessions for the C License begin in July 2021 with candidates attending 1 in-person meeting hosted at Devens/Lancaster, MA from October 8-11.
To be eligible for the C License, candidates must have held a National D License for 12 months.
Click here for further information on the C License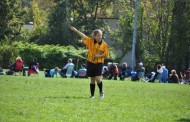 Arlington Soccer Club supports the BAYS Zero Tolerance Policy, which governs the behavior of coaches and spectators toward referees. The policy is designed to foster good sportsmanship, provide a friendly and safe environment, and support the development of referees, many of whom are relatively young and inexperienced.
More info here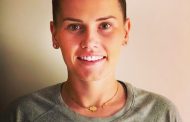 Coach Paige Forster of the Arlington Soccer Club has been named a Regional Double-Goal Coach Award winner by Positive Coaching Alliance, a national nonprofit that works toward the development of better athletes, better people through sports done right.
Believing that "what gets rewarded, gets repeated," PCA names the youth and high school coaches across the country for this award to shine a spotlight on their efforts to make sports for young athletes a place where they can come together to learn, grow and develop the character they need to thrive in sports and in life.
"Paige Forster was selected as one of just 100 coaches across the country for this prestigious recognition because she leads players and coaches at the Arlington Soccer Club with thoughtfulness, caring, positivity and accountability," according to Beth O'Neill Maloney, executive director of PCA's New England chapter.
Maloney was impressed with the descriptions of Forster as "a 'once-in-a-lifetime coach' who can elevate a player's game while addressing the areas in which they need to grow. With the oft-repeated mantra that 'confidence is key,' Paige Forster has an exceptional impact on the 300+ volunteer coaches and the almost 2,000 young athletes in the Arlington Soccer Club by developing a positive youth development culture."
Forster is one of 100 Regional Double-Goal Coach Award winners, named for coaches who strive to win while also pursuing the goal of teaching life lessons through sports.
<